onsdagen den 11:e december 2013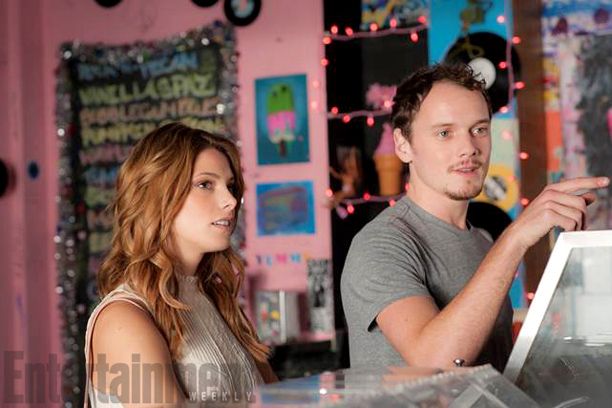 ew
You know the story: Boy meets girl. Boy and girl fall in love. Girl dies and comes back as a zombie.
Well, that's the story of Burying the Ex, a new romantic zombie comedy, or zom-com, as the cast and crew call it, starring Ashley Greene (Twilight) and Anton Yelchin (Star Trek). EW was on set for an exclusive first look and a chance to talk with the stars and director.
Burying the Ex follows Max (Yelchin), an all-around nice guy, and his incredibly beautiful but overbearing and manipulative girlfriend Evelyn (Greene). After they move in together, Evelyn is killed in a freak accident, leaving Max single and free from her controlling nightmare — or so he thinks.
"Her boyfriend has his mourning period, but then gets over it," Greene said. "Much to his dismay, she comes back as a zombie but doesn't clock that she is a zombie and thinks that true love has brought her back and that they're supposed to be together forever." Though Greene is best known for playing another supernatural creature, the Twilight comparisons pretty much end there.
"It's a lot different, 'cause I think in Twilight we are trying to get into humanity and hide the secret that we have
.
The fun thing about this film and with Evelyn is that when she comes back, she's got no boundaries and no filter. It's a lot more outrageous, not that vampires aren't farfetched."
"When she returns as a zombie, she's a thousand times worse and more controlling," Yelchin told EW. To prepare for the genre film, Yelchin watched classic undead movies like White Zombie and Night of the Living Dead , but noted that working with Gremlins director Joe Dante made it special. "When I think of this movie, I think of it as more of a Joe Dante film than a genre movie, because he's always represented a very specific take on genre and he's always created genre films that were always aware of their genre." more at source
Upplagd av

rosebellas
kl. 04:31
Inga kommentarer:


MQ:
At The Show:
TheFashionCourt
Kristen Stewart in a @Chanel Spring '14 look at the Métiers d'Art Show tonight! MTC. #chaneldallas #parisdallas \ http://twitpic.com/doaal5 | Dakota Fanning in @CHANEL Fall 2013 Couture at the Métiers d'Art Show tonight! MTC. #chaneldallas #parisdallas http://fb.me/2XKThSMOK
@FDLuxe
#DakotaFanning has arrived in a @CHANEL dress & "will maybe eat Mexican food once she gets out of her dress" #chaneldallas #itsdallasbaby
Eonline
Among the familiar faces there to check out Karl Lagerfeld's latest works of sartorial art, inspired in part this coming season by vintage Americana (and Dallas, Texas, in particular), were K.Stew pal Dakota Fanning, Poppy Delevingne, Alexa Chung, Vogue editor in chief Anna Wintour and André Leon Talley.
Stewart managed to stay true to her personal style and kick it up a notch in apricot pants and a taupe crop top, a charcoal sweater tied around her waist—a look ripped right from Chanel's Spring 2014 collection.
The show started with a short film called "The Return," which guests were seated in classic cars to watch, drive-in-movie style.
Twipics: Source:
1
|
2
| 3 |
4
|
5
|
6
/ 7 /
8
: /
Video
/
9
/
10
|
11
| |
14
|
Via
|
12
|
13
HQ/MQ/Kristen
source
Tnxs
Kstewartfans
|
wwd
YT Videos:
@veronicaspuffy
Upplagd av

rosebellas
kl. 02:26
Inga kommentarer: